Our Story
Welcome to Podunk's Ranch, where we are committed to delighting foodie families with the best meats on the market. We know you love wowing others in the kitchen with your culinary skills. That is why we are raising beef with not only a premium flavor profile, but also in a way that is natural for the cattle and better for the environment.
You can be confident that our beef provides a consistently superior eating experience, from a source of protein which is bursting with flavor in every bite. The best part? It is conveniently delivered right to your door. If you are looking for the perfect conversation starter for your next dinner party, look no further. We've got you covered!
You will also find, like our other customers, the scrumptious marbling webbed through-out our beef. Order your perfectly proportioned monthly subscription and let Podunk's Ranch Beef be your solution. Tired of grocery store meat that is lacking in quality and flavor? Ever wonder where that beef is actually coming from? Embarrassed by serving poor quality beef at social gatherings? Well, that is where our story begins. Like many of our best customers, we have felt the frustration of cooking a cut of beef that cooks-up as though it is going to be used as shoe leather and lacking in decent flavor. We remember feeling uneasy about where meat originated from or what the animal's journey was like from their home to ours. That is why on August 8, 2020 we launched Podunk's Ranch. With a few acres, just as many animals and a lot of hard work we committed to doing things the right way.
Today, we are recognized as the leading farm-to-table beef producer our customers have grown to know and trust. At Podunk's Ranch, we are passionate about high-elevation wildland summer grazing, rotational sustainable irrigated fall grazing and grain finishing. Our animals never experience any abuse of medication, such as; harmful antibiotics or stressful situations, such as; intense pressure herding found commonly in other operations. It is our conviction that this is essential for providing a quality product because what is best for the animal is also best for the people that enjoy our delicious beef.
Podunk Ranch is proud to be a part of the growing farm-to-table movement, offering the highest quality wildland-grazed meat from the Colorado mountains. We hope that you will join us in our mission to keep farms and ranches working for generations to come. When we work together, we can all enjoy a culinary experience bursting with mouth-watering flavor in each and every nutrient-dense forkful. Thank you for choosing Podunk's Ranch.
We look forward to serving you and bringing you along in our Ranch's journey.
Podunk's Ranch
Yes, we are women owned and yes, there is a wonderful man behind Podunk's Ranch. We couldn't raise the best beef without him.
Buy Beef Now Button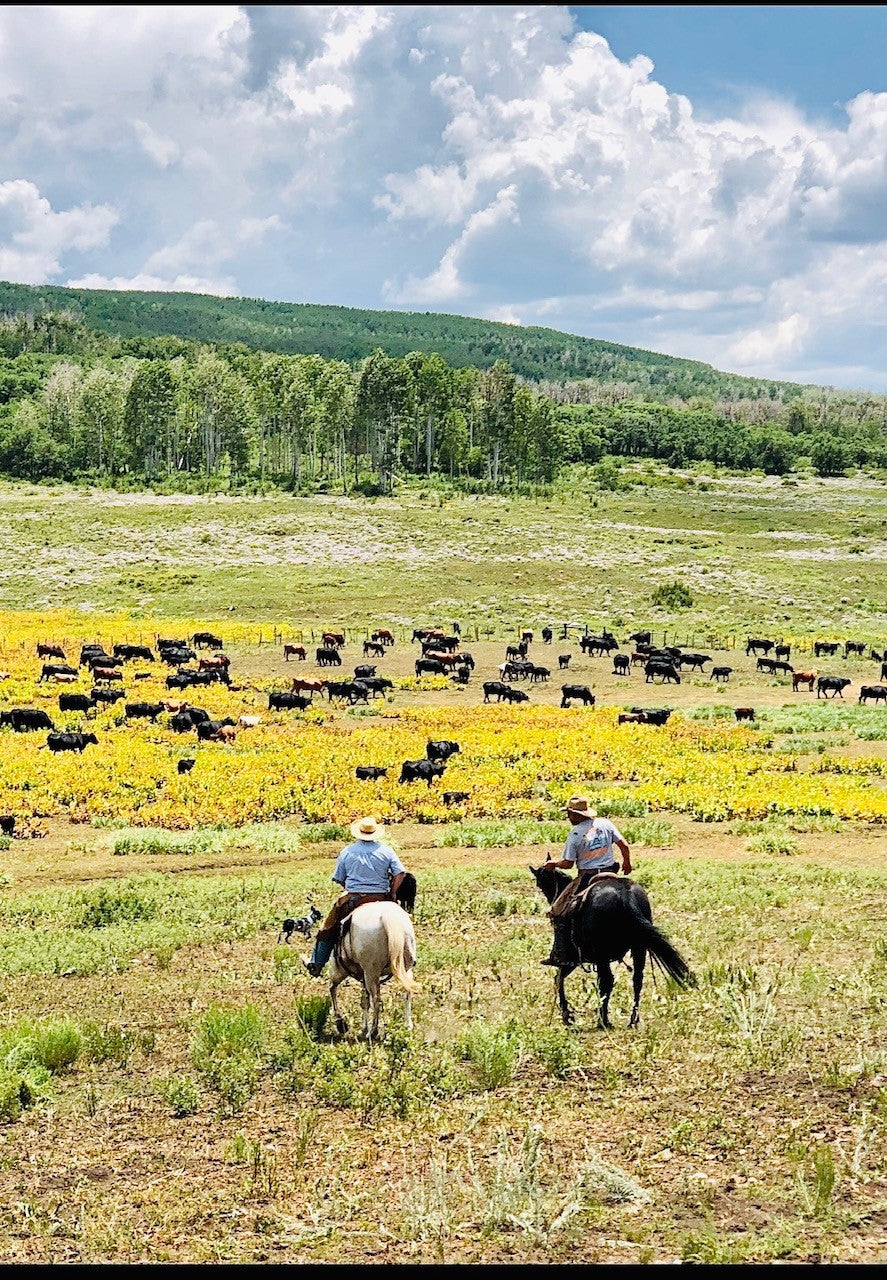 End of the Trail
This breathtaking view holds a special place in my heart for numerous reasons. Primarily, it marks the culmination of a 4-5 day journey driving cattle to higher elevations. As the end of the trail, it becomes their resting place for a few months, making it all the more meaningful to me.
Buy Beef Now Button