Questions & Answers
How much freezer space do I need for my purchase? 
● A rule of thumb is 30 to 35 LBS of beef needs 1 cubic foot of storage.
Therefore:
What are our payment options?
● . We accept credit cards, debit cards, and Paypal.
Is this beef 100% antibiotic and hormone free?
● YES!! All our beef is 100% naturally raised and antibiotic and hormone-free.
Is this beef all raised locally?
● Yes!! All our beef is raised on Rabun Ranch.
How many pounds of meat can we expect?
● Sixteenth Beef Share is approximately 25 -30 LBS.
● Eighth Beef Share is approximately 50 -60 LBS.
● Quarter Beef Share is approximately 80-110 LBS.
● Half Beef Share is approximately 200 -220 LBS.
● Whole beef Share is approximately 400 - 440 LBS.
Is your beef processed at a local USDA processing facility?
● Yes!! USDA Quality assurance and food safety are important to us too.
How will our beef be wrapped when we receive it from you?
● Most farms offer paper-wrapped, shrink-wrapped or vacuum-sealed Packaging. Rabun Ranch only offers vacuum sealed because it keeps your Beef fresh longer in your freezer.
How long will our beef be safe to use once it is in our home freezer?
● Vacuum-sealed beef will stay fresh in your freezer for one year.
What specific cuts of meat can we expect with our beef order?
● The below example is for the QUARTER BEEF. It is also based on hanging weight of 65 lbs.
● Our BEEF PACKAGES are intentionally designed to provide you with a clear understanding of what you will receive. Each package contains the same cuts and only differs in how many individual pieces you purchase to meet your family's needs.
Any special cooking advice you can give us for cooking grass-fed beef?
● Keep it simple! There are a million opinions out there on the internet on how to cook grass-fed beef. Cook it slow, cook it fast, sear the outside fast, then slow cook, reverse sear after cooking it real slow, and on and on. We recommend you cook it about how you always have cooked your store-bought beef with just a few ca
1. The most important tool you can have is an excellent digital meat thermometer. For the money, we like ThermoPop by Thermoworks the best. They are easy to use, accurate, and give you a reading in seconds! Their ThermoPen is one of the best for home users if you want to spring for the extra eighty dollars.
2. Cast Iron frying pan like grandma use to do all her frying in is one of the best ways to prepare a steak and hamburgers! Use butter in the pan for your steaks and a little Pam or your favorite oil for hamburgers with the cooking temperature set on high. Put your steak in the pan, sear one side and leave on that side for five minutes, Flip and repeat. Check the steak's internal temperature with your ThermoPop until you reach your desired temperature for the perfect finish. Use the chart supplied with your ThermoPop to know when your steak is rare, medium, medium well, or well done.
3. On a grill, the reverse sear method is great. Cook on low temperature using the ThermoPop to cook to your desired temperature. Remove the steaks from the grill when they are 20 to 30 degrees short of your target. and turn the grill up to high(about 500 degrees f). While the grill is heating up, wrap your steaks in tin foil and let them rest. Once the 500 degrees are reached, put your steaks sear each side, and use your ThermoPop to remove when your steaks are just short of your desired temperature. Rewrap the steaks in tinfoil to take them to the table so they can rest until everything is ready for the perfect meal.
4. For wet beef cooking such as in a crockpot use your standard cooking method just like any other roast or beef you cook in a crockpot.
5. Braising, Baking, and the other ways you cook beef are easy too, just use your ThermoPop to cook to the desired temperature!
Why is the deposit non-refundable?
● The deposit is non-refundable. Remember, when your animal is reserved, we make an appointment with our USDA processor, deliver the reserved animal for processing, have the meat dry-aged for 14 to 21 days, and return to the processor to pick up your beef. We then store your beef in our freezers as we prepare to deliver it to your door. We only have so many animals to offer our valued customers, so we need to assure all our steers reach one of our valued customers in a timely fashion. Customers do not buy their beef at the same time, so we only process an animal when a request is made to buy our beef.
● Remember the meat has a shelf life. We must deliver our meat shortly after processing to give all our customers up to a year to cook and enjoy their meat safely. If someone decides to not complete the purchase, we are under pressure to find a new customer as soon as possible to assure they have plenty of time to enjoy their beef. If we are unable to find another customer, we risk losing the beef. We love and respect our cattle too much, and are thankful for each one. We are not prepared to see any of these animals wasted.
● We thank you for your business and for understanding the important need for this policy.
How much deposit is required to purchase (your ranch) Beef?
● Twenty-five percent of the total purchase price is required to reserve your share of our beef. The remainder is due on delivery.
What freezer will I need?
● You want to make sure you have the freezer space to hold your beef. Since your beef won't be ready until January, you will have plenty of time to find the right size freezer. We will check in with you to make sure you're ready before we ship your beef.
● 1/8 Beef Share: requires approx. 1.5 - 2.0 cubic ft. of freezer space. This will fit in a regular fridge-freezer compartment. It will take about half the space, which will leave room for other goods. No big freezer needed
● 1/4 Beef Share: requires approx. 3.5 - 4.0 cubic ft. of freezer space. This will fit in a small chest/upright freezer.
● 1/2 Beef Share: Comes with a free freezer!
● Whole Beef: requires approx. 14 - 16 cubic ft. of freezer space. This will fit in a large chest/upright freezer.
 Is your beef dry-aged?
● Your beef will be dry-aged for 7-9 days to increase tenderness and flavor. We have found this to be the optimal time for our grass-fed beef. It's worth the wait!
Where are your cattle processed?
● We get our beef processed at Dean & Peeler Meatworks in Poth, TX. They are a small USDA inspected facility that does an incredible job. What most impresses us is the cleanliness of the workspace and the professional folks who process our cattle.
How do you ship your beef frozen?
● We ship with an insulated box liner and dry ice to keep your beef frozen. We guarantee your order to arrive fully frozen, no matter where you live, or your money back. Even if your order ships in 100-degree weather, it will still arrive solid-frozen.
When will my Beef Share ship?
● Your beef will be ready in January 2023. We will message you when your beef is ready to ship and send you your final payment. There are no surprises.
What if I'm not home when my box arrives?
● No signature is required for delivery. Your box will always be packed with extra dry ice in case you can't unbox it right away.
Can I track my order?
● Yes. We keep you updated while your box is in transit to your home. You will also get a last-minute notice when it's about to arrive.
Do you offer refunds?
● We want every customer to be happy. In the occasion that you are not satisfied, we will give you 100% of your money back. No questions asked.
How is your beef packaged?
● Each cut is individually packaged, labeled and vacuum sealed.
Can you ship a whole beef?
● Yes, we can ship a whole beef! It will arrive in multiple boxes that weigh around 70 lbs each.
● Depending on the temperatures, we will use dry ice or large ice packs (and possibly both) when shipping your beef. We work with a company called Periship who specializes in shipping perishable items across the country.
● We are confident that your beef will arrive frozen! So confident, that we offer a 100% satisfaction guarantee!
Do I get to customize my own cut sheet?
● We have a custom cut sheet that we've been using for more than 4 years, and customers have been loving it.
● Let us take the burden of 50 decisions off your shoulders with our custom cut sheet.
When do I get my beef?
● Bulk beef fulfillment will begin in mid-January and last for a few months. The first orders in will be the first orders out.
How is it packaged?
● As you can see in the pictures, all of our beef is vacuum sealed for the freshest flavor. These packages can last up to 18 months in a freezer.
● I'll be completely transparent and say that we've eaten beef that's been frozen longer than 18 months and it's been good. We have an awesome USDA Inspected butcher - Memphis Meats, their packaging is 2nd to none!
When and where will I pick up my meats?
● When you place your order, you will have the option to choose when and where works best for you.
● We will send you confirmation e-mail when we receive your order in which we will give you a specific date and location for pickup, delivery, or shipping.
● We will send out a reminder/ confirmation e-mail the week of your delivery, pickup. This email will also include the amount of money you owe for your beef. We ask that you please respond to the e-mail so that we know to load your beef onto the truck.
● If we do not receive confirmation that you will meet us, we will not load your beef onto the truck and you will be charged a storage fee of $25.
Can you tell me ahead of time how much I will owe on the Delivery Day?
● We don't know exactly how much you will owe until the butcher sends us hanging weights. When we send out a reminder/ confirmation e-mail one week prior to your delivery day, this email will also include the amount of money you owe for your beef. We deduct your deposit and ask that you pay the balance due prior to or upon pick-up.
What if I miss my scheduled pick-day?
● If you can get a friend to pick up your beef, that would be best, otherwise we can store your beef at the ranch in Gunnison (for a $30 re-stocking fee) and either deliver it to you on our next delivery day. or have you pickup in Gunnison.
How much freezer space do I need to store my meat?
● A quarter beef takes up about 4.5 cubic feet of freezer space. That equals about one, legal-sized file cabinet drawer or 2-3 shelves of a standard side-by-side freezer. Double this for a Half, and double it again for a Whole Beef.
Can you split up our beef into groups if we are sharing with another family?
● We do not open boxes from our butcher. Every cut is individually wrapped and clearly labeled, making it very easy for you and your friends to separate evenly when you get home to your own kitchen.
Do you accept credit cards?
● Yes, as well as checks and cash. The credit card companies take 3% of credit card payments, so if it doesn't matter to you, we'd prefer a check or cash. That said, we want to make buying our beef so if a credit card is easiest, use that.
Do your ranches practice Holistic Management and Holistic Planned Grazing?
● Yes! We are trained in and have been practicing Holistic Management for over 15 years. We regularly attend conferences, workshops, and study Holistic Management, biodynamic ranching, organic ranching, holistic livestock health, soil health, etc. to keep up to date on the latest practices in our field.
Can I visit your ranch?
● Absolutely! We encourage folks to visit and bring their children. We offer tours, workshops, and an on-farm store in the summer. We also offer regular field trips to local school children as well as a Field Day.
Do you give your cattle antibiotics?
● We never use sub-therapeutic antibiotics. We do, on rare and necessary occasions, use antibiotics to treat sick animals, but these animals are removed from the meat program and will never end up on your plate.
Do you give your cattle growth hormones?
● Never.
Do you use chemical fertilizers?
● Never
Do you use pesticides, insecticides, fungicides, etc?
● Never
Where is your Lamb processed?
● Processing is currently done at a State Inspected Processing Facility, Kinnikin Processing in Montrose, CO. Kinikin Processing is also an certified USDA processing plant.
Are your animals treated humanely?
● Absolutely. Our animals are out on spacious, clean, organic, fresh pastures their entire lives. They have space and means to express their particular "animalness." They remain under our care their entire extended lives, spending their lives with their families, eating a diet of fresh greens, exercising at will, getting plenty of fresh air and sunshine, and living a low-stress and natural life. Everyone on our ranches has been trained in low stress livestock handling.
Is your beef certified organic?
● We like to say we are Beyond Organic! We are not currently certified organic, but our pastures will be Certified Organic this year. That said, we have always, and always manage our pastures and livestock in a way that is in line with organic standards, and if fact go way Beyond organic standards.
Do you have any other certifications?
● Parker Pastures is certified through The Global Animal Partnership's (GAP) 5 Step Animal Welfare Rating Standard for Beef Cattle: Step Level 4 Rating.
How much meat can I expect?
● Our promise is that you will receive at least 55 - 60% yield from your hanging weight, in other words at least 1/2 of your hanging weight back as cut and wrapped meat. This can be much more, but 55% is our guarantee. Choosing to receive all your bones, organs, scraps, as well as bones in cuts greatly increases what you receive back as cut and wrapped meat.
How is the meat packaged?
● Your meat will arrive hard frozen. Each cut will be individually packaged. Kinnikin Processing uses a BPA free shrink wrap. The processor puts all of your frozen cuts into boxes with your name on them that are easy to handle.
Podunk's Ranch
Yes, we are women owned and yes, there is a wonderful man behind Podunk's Ranch. We couldn't raise the best beef without him.
Buy Beef Now Button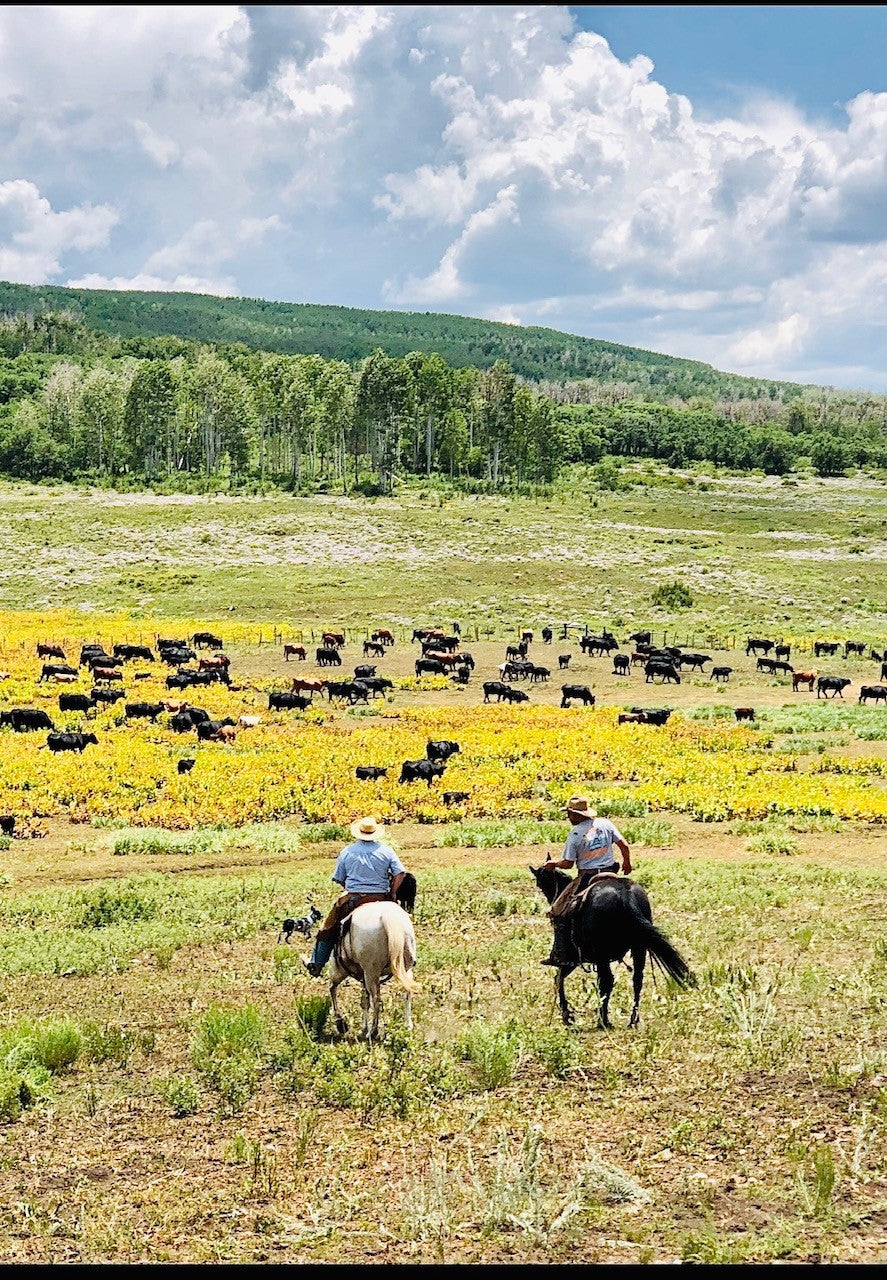 End of the Trail
This breathtaking view holds a special place in my heart for numerous reasons. Primarily, it marks the culmination of a 4-5 day journey driving cattle to higher elevations. As the end of the trail, it becomes their resting place for a few months, making it all the more meaningful to me.
Buy Beef Now Button