Regular price
$300.00 USD
Regular price
Sale price
$300.00 USD
Unit price
per
Sale
Sold out
FREE SHIPPING
Reserve your 1/4 Beef Share today for just $300.
Pay the final amount ($1295) when your beef is ready. 
These cattle are raised on Podunk's Ranch to produce the most nutritious and flavorful pasture-raised beef you will ever taste.
Helping families eat confidently with our local wildland grass-fed finished beef is our passion. We would love to serve you and become the ranch you choose to build a relationship with!
Hormone and Antibiotics FREE
Your Quarter Beef Package Includes;
40% Premium Ground Beef: 36-48 lbs. in convenient 1 lb. packages  blend
35% Savory Cuts: Roasts, packages of stew meat
25% Steaks: Sirloin Tips, Top Sirloins, New York Strips, Rib Eyes, Tenderloin, and one or two of the following 'odd cuts' too few for every box:  Skirt, Flank, OR Tri-Tip.
Deposit: Your 1/4 Beef Share deposit is just $300. This is a non-refundable deposit. We will provide an invoice with the final amount (15.95 lb. x 100lbs. = 1595.00 - 300.00 = 1295.00). 

How it works: You reserve your 1/4 Beef Share today with a $300 deposit. We select the healthiest & fattest steer in the herd. We'll have our expert butcher process your beef and once it's ready and the final payment ($1295) has been processed, we'll ship it directly from our ranch to your door in up to 3 big boxes. And don't worry, your beef will arrive fully frozen!
Freezer Space: This 1/4 Beef Share will require approx. 4 cubic ft. of freezer space.
Packaging: All cuts are individually vacuum sealed and labeled.
Share
View full details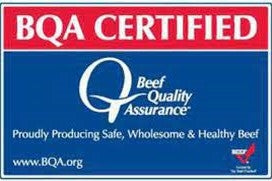 Podunk's Ranch
The finest-quality cuts of beef raised in mountain pastures, wildland and grassfed with a grain finish delivered directly from our ranch to your door.