Regular price
$1,000.00 USD
Regular price
Sale price
$1,000.00 USD
Unit price
per
Sale
Sold out
 GO WHOLE BEEF! OUR BEST DEAL.

Go Whole Cow! You'll be the most popular house in the neighborhood with a huge variety for cookouts, parties, smoking meats and more. Also, the whole cow is great option if you're splitting the share with a friend or two, or family member(s), everyone gets our best deal. And no need to worry about keeping it stored, our heavy duty cryo-vac packaging completely protects the beef for well over a year. This will be the only beef purchase you need to make all year! 
PRICE INCLUDES:
All butchering and processing fees
Grass-Fed and Finished for savory flavor and tenderness
All items are professionally packaged, and labeled with name of cut
All meat is flash frozen to preserve freshness, quality and flavor
Cuts are vacuum sealed for indefinite fresh quality in the freezer
Free Shipping nationwide 
Local pick-up 
100% Satisfaction guarantee 
What you Get in a Whole Beef
Highest Quality Premium Steaks
75lbs or (25%) of top notch steaks including; 1 Beef Hanging Tender, 10-11 NY Strips, 9-10 Ribeye Steaks, 8-9 Filet Mignons, 4 Sirloin Tips, 7-8 Top Sirloin, 5 Denver Chuck Steaks, and a possible surprise bonus steaks.
A Plethora Of Ground Beef
167lbs or (35%)of the best Ground Beef you've ever had. Perfect for Burgers, Tacos, Meatballs, you name it...Packed in convenient 1lb packages. 
Crowd Pleasing Cuts
158lbs. or (40%) of Savory Cuts perfect for family gatherings and party times! Includes;  9-11 Roasts; Boneless Chuck, Shoulder and Tri Tip, 16-24 packages of Soup Bones with meat or other Shank Cuts, such as Osso Bucco; and all of the following 'special cuts; Brisket, Back Ribs, Short Ribs, Skirt Steak, and Flank Steak. 
*
 Please note that we cannot guarantee specific cuts in any order *
 Deposit: Your whole Beef deposit is just $1000. This is a non-refundable deposit. Your final payment will be based on 400 lbs. of beef. The total due will be $4916 after subtracting deposit, ($14.79lbs x 400lbs = $5916.00 - $1000 deposit = $4916.00) We will provide an invoice with the final amount. 
How it works: You reserve your whole beef today with a $1000 deposit. We will select the healthiest & fattest steer in the herd. We'll have our expert butcher process your beef and once it's ready and final payment has been processed, we'll ship it directly from our ranch to your door in up to 8 big boxes. And don't worry, your beef will arrive fully frozen!
Freezer Space: This whole Beef  will require approx. 12-16 cubic ft. of freezer space.
Packaging: All cuts are individually vacuum sealed and labeled.
100% Money Back Guarantee
We put a lot of work into serving you. 
We get that buying food online is tough (and as ranchers, we hate tough). 
You're putting a lot of trust in us, and we want you to be a customer for life. 
Share
View full details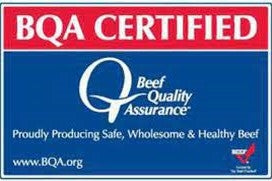 Podunk's Ranch
The finest-quality cuts of beef raised in mountain pastures, wildland and grassfed with a grain finish delivered directly from our ranch to your door.